Welcome to Coblentz Excavating!
Coblentz Excavating is a family-owned and operated business serving Greenville, PA, since 1995. My small local business specializes in excavation and driveway resurfacing with over 25 years of industry experience to back my work. Coblentz Excavating is the premiere driveway resurfacing and installation business in the Greenville, PA area, and takes great pride in delivering work that is clean, professional, and on time, every time. I consistently provide my customers with world-class customer service.
My work is delivered with precision, attention to detail, and expertise that is backed by years of experience in the industry. I also offer my services at competitive prices with a five-year guarantee on all of my work. Coblentz Excavating is BBB affiliated as well as licensed, bonded, and insured.
Coblentz Excavating offers military discounts and free estimates or a consultation. Call today to see how Coblentz Excavating can help you with your new driveway installation, repair, or excavation.
Emergency excavators are available!
If you're in the market to give your driveway a facelift, give Coblentz Excavating a call at (724) 699-3315. Having a faulty or damaged driveway not only brings down the curb appeal of your home but could also potentially be a hazard to your vehicle. Most homeowners put off resurfacing a driveway out of fear of what it might actually cost. And, if you do find it at a cheaper price, you often have to forgo quality.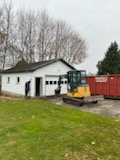 My Promise to You
That's not the case at Coblentz Excavating. Resurfacing doesn't have to cost a fortune and you don't have to be worried that your contractor is going to deliver subpar work when dealing with Coblentz Excavating. I offer my clients a five-year guarantee on my work.
And, you never have to worry about being overcharged. I not only offer superior excavation services, but I also provide professional advice. I will come to your home and provide you with a free estimation and consultation. Upon inspection of your driveway, I will make recommendations on what it is that you need and what service will best suit you. I provide clients with advice that is honest, reliable, transparent, and dependable. During my consultation, I will take into consideration the condition of your driveway, your goals and vision for the project, your budget, any time constraints, and any personal preferences.
The Best
Based on this information, I will make recommendations to suit you, your goals and vision, and your budget for the project. I have the right tools for the job and I always come prepared on my first day of work. At the end of the day, you will be left with a beautifully manicured driveway that looks professional, polished, and sleek. The value of your home will increase and your curb appeal will double. Don't underestimate the power of a well-kept driveway!
Proudly serving the following areas:
Adamsville, PA | Clarks Mills, PA | Greenville, PA | Grove City, PA | Hadley, PA | Hermitage, PA | Jamestown, PA | Orangeville, PA | Sharpsville, PA | Transfer, PA